Anticorodal® – infinitely adaptable
As Anticorodal alloys can be adapted to virtually all different fields of work and casting methods, countless possible uses are emerging for this material. Outstanding mechanical properties, electrical conductivity, corrosion resisting thanks to low silicon content, but slightly harder to cast. As with Silafont alloys, to enjoy cost-effective use, it is well worth providing a complete definition of the material being used and tailoring it to both the parts to be produced and your casting process.

The creatures of the sea provide the natural metaphor for this alloy. Such creatures adapt to different conditions and have developed a whole series of special attributes in order to do this.
Anticorodal®-04 [ AlSi0,5Mg ]
Areas of use
For castings with high electrical conductivity. Electrical conductors, foodstuffs industry, mechanical engineering, optics/furniture, chemical industry.

Distinguishing characteristics
Alloy for medium strength and medium hardness electrical conductors. Best corrosion resistance, very good weldability and suitable for decorative anodising (with the exception of high pressure die casting). Very well suited to hard soldering.

Alloy denomination
Chemical denomination: AlSi0.5Mg


To see composition and mechanical properties please use a display with a minimum width of 640px. If you have any questions please contact us [here].
Mechanical properties
Casting
method
Treatment
state
Yield tensile strength
Rp0,2 [N/mm2]
Ultimate tensile strength
Rm [N/mm2]
Elongation
A [%]
Brinell hardness
HBW
Sand casting
F
60 – 100 (50)
90 – 130 (80)
15 – 20 (10)
35 – 40 (35)
Sand casting
T7
160 – 180 (150)
190 – 210 (180)
3 – 5 (3)
70 – 75 (70)
Gravity die casting
F
80 – 120 (70)
100 – 140 (90)
18 – 22 (12)
40 – 45 (40)
Gravity die casting
T7
170 – 190 (150)
200 – 220 (190)
3 – 6 (3)
70 – 80 (70)
High press. die casting
F
80 – 120
100 – 140
7 – 12
40 – 45
Anticorodal®-50 [ AlSi5Mg ]
Areas of use
Architecture, fittings, lighting, domestic appliances, air conditioning, art casting, foodstuffs industry, mechanical engineering, model/mould construction, optics/furniture, shipbuilding, chemical industry.

Distinguishing characteristics
Outstanding resistance to weathering and very good resistance to salt water; good mechanical properties in as-cast state and very good after artificial ageing; very good polishability and machinability, particularly when artificially aged. Good weldability, excellently suited to technical anodising.

Alloy denomination
Chemical denomination: AlSi5Mg


Mechanical properties
Casting
method
Treatment
state
Yield tensile strength
Rp0,2 [N/mm2]
Ultimate tensile strength
Rm [N/mm2]
Elongation
A [%]
Brinell hardness
HBW
Sand casting
F
100 – 130 (90)
140 – 180 (130)
2 – 4 (1)
60 – 70 (55)
Sand casting
T4
150 – 180 (120)
200 – 270 (150)
4 – 10 (2)
75 – 90 (70)
Sand casting
T6
220 – 290 (160)
260 – 320 (180)
2 – 4 (1)
95 – 115 (85)
Gravity die casting
F
120 – 160 (100)
160 – 200 (140)
2 – 5 (1)
60 – 75 (60)
Gravity die casting
T4
160 – 190 (130)
210 – 270 (170)
5 – 10 (3)
75 – 90 (70)
Gravity die casting
T6
240 – 290 (180)
260 – 320 (190)
2 – 7 (1)
100 – 115 (90)
Anticorodal®-70 [ AlSi7Mg0,3 ]
Areas of use
Architecture, cars, aircraft, automotive engineering, manufacture of engines, foodstuffs industry, mechanical engineering, shipbuilding, chemical industry, textile industry, defence engineering, highly dynamically loaded components.

Distinguishing characteristics
Permanently modified alloy especially for sand casting with very good mechanical properties, outstanding corrosion resistance, very good weldability and very good machining characteristics.

Alloy denomination
Chemical denomination: AlSi7Mg0.3 | Numerical denomination: 42 100


Mechanical properties
Casting
method
Treatment
state
Yield tensile strength
Rp0,2 [N/mm2]
Ultimate tensile strength
Rm [N/mm2]
Elongation
A [%]
Brinell hardness
HBW
Sand casting
F
80 – 140 (80)
140 – 220 (140)
2 – 6 (2)
45 – 60 (45)
Sand casting
T64
120 – 170 (120)
200 – 270 (200)
4 – 10 (4)
60 – 80 (55)
Sand casting
T6
200 – 280 (200)
240 – 320 (240)
3 – 6 (2,5)
80 – 110 (80)
Gravity die casting
F
90 – 150 (90)
180 – 240 (180)
4 – 9 (2)
55 – 70 (50)
Gravity die casting
T64
180 – 200 (140)
250 – 270 (220)
8 – 12 (5)
80 – 95 (80)
Gravity die casting
T6
220 – 280 (200)
290 – 340 (250)
5 – 9 (3,5)
90 – 125 (90)
Anticorodal®-71 [ AlSi7Mg0,3 ]
Areas of use
For castings with high electrical conductivity.

Distinguishing characteristics
High strength and hardness after heat treatment. Very good casting properties, very good corrosion resistance, very good weldability and machinability.

Alloy denomination
Chemical denomination: AlSi7Mg0.3


Mechanical properties
Casting
method
Treatment
state
Yield tensile strength
Rp0,2 [N/mm2]
Ultimate tensile strength
Rm [N/mm2]
Elongation
A [%]
Brinell hardness
HBW
Sand casting
T7
160 – 200 (150)
220 – 250 (210)
2 – 4 (2)
70 – 80 (70)
Gravity die casting
T7
160 – 200 (150)
220 – 250 (210)
4 – 6 (3)
70 – 80 (70)
Anticorodal®-72 [ AlSi7Mg0,6 ]
Areas of use
Architecture, aircraft, domestic appliances, automotive engineering, foodstuffs industry, mechanical engineering, model/mould construction, shipbuilding, chemical industry, defence engineering.

Distinguishing characteristics
Alloy with very good mechanical properties, outstanding corrosion resistance, very good weldability and very good machining characteristics. Higher Mg content than Anticorodal-70, giving it higher strength and hardness with less elongation.

Alloy denomination
Chemical denomination: AlSi7Mg0.6 | Numerical denomination: 42 200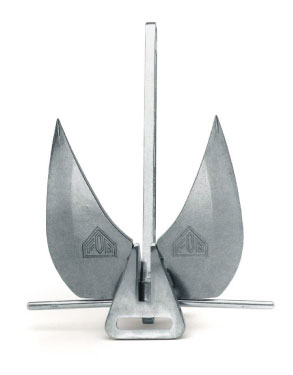 Mechanical properties
Casting
method
state
Yield tensile strength
Rp0,2 [N/mm2]
Ultimate tensile strength
Rm [N/mm2]
Elongation
A [%]
Brinell hardness
HBW
Sand casting
T6
220 – 280 (220)
250 – 320 (250)
1 – 2 (1)
90 – 110 (90)
Gravity die casting
T64
210 – 240 (150)
290 – 320 (230)
6 – 8 (3)
90 – 100 (90)
Gravity die casting
T6
240 – 280 (220)
320 – 350 (270)
4 – 6 (2,5)
100 – 115 (100)
Anticorodal®-78 dv [ AlSi7Mg0,3 ]
Areas of use
Architecture, cars, aircraft, automotive engineering, manufacture of engines, foodstuffs industry, mechanical engineering, shipbuilding, chemical industry, textile industry, defence engineering, highly dynamically loaded components.

Distinguishing characteristics
Permanently modified alloy especially for sand casting with very good mechanical properties, outstanding corrosion resistance, very good weldability and very good machining characteristics.

Alloy denomination
Chemical denomination: AlSi7Mg0.3 | Numerical denomination: 42 100


Mechanical properties
Casting
method
Treatment
state
Yield tensile strength
Rp0,2 [N/mm2]
Ultimate tensile strength
Rm [N/mm2]
Elongation
A [%]
Brinell hardness
HBW
Sand casting
F
80 – 140 (80)
140 – 220 (140)
2 – 6 (2)
45 – 60 (45)
Sand casting
T64
120 – 170 (120)
200 – 270 (200)
4 – 10 (4)
60 – 80 (55)
Sand casting
T6
200 – 280 (200)
240 – 320 (240)
3 – 6 (2,5)
80 – 110 (80)
Gravity die casting
F
90 – 150 (90)
180 – 240 (180)
4 – 9 (2)
55 – 70 (50)
Gravity die casting
T64
180 – 200 (140)
250 – 270 (220)
8 – 12 (5)
80 – 95 (80)
Gravity die casting
T6
220 – 280 (200)
290 – 340 (250)
5 – 9 (3,5)
90 – 125 (90)