Peraluman® – beautiful,
soft sheen, impact resistant and tensile
Thanks to their absolute corrosion resistance and associated resistance to acids and salts, these alloys are used to manufacture machines for the production of foodstuffs. The parts are impact resistant and display good elongation after fractures. Their particularly soft sheen and their ability to anodise in colour enable them to be used in areas where looks count.

The metaphor from nature for this alloy is soft coral. It is gracefully structured and appears bright in dark water – it has the same matt sheen as parts produced from Peraluman.
Peraluman®-30 [ AlMg3 ]
Areas of use
Architecture, fittings, builder's hardware, lighting, domestic appliances, air conditioning, art casting, foodstuffs industry, mechanical engineering, model/mould construction, optics/furniture, shipbuilding, chemical industry.

Distinguishing characteristics
Excellent chemical resistance, particularly to salt water. Perfectly suited to decorative anodic oxidation, outstanding sheen after mechanical polishing. Very good elongation and impact toughness values. Suitable for challenging casting technique.

Alloy denomination
Chemical denomination: AlMg3 | Numerical denomination: 51 100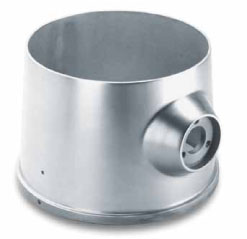 Mechanical properties
Casting
method
Treatment
state
Yield tensile strength
Rp0,2 [N/mm2]
Ultimate tensile strength
Rm [N/mm2]
Elongation
A [%]
Brinell hardness
HBW
Sand casting
F
70 – 100 (60)
170 – 190 (140)
4 – 8 (4)
50 – 60 (45)
Sand casting
T6
140 – 160 (110)
200 – 280 (180)
2 – 8 (2)
70 – 90 (65)
Gravity die casting
F
70 – 100 (70)
160 – 210 (150)
9 – 16 (6)
50 – 60 (50)
Gravity die casting
T6
140 – 160 (110)
240 – 260 (180)
15 – 20 (12)
70 – 80 (70)
Peraluman®-36 [ AlMg3Si ]
Mechanical properties
Casting
method
Treatment
state
Yield tensile strength
Rp0,2 [N/mm2]
Ultimate tensile strength
Rm [N/mm2]
Elongation
A [%]
Brinell hardness
HBW
Sand casting
F
80 – 100 (70)
140 – 190 (130)
3 – 8 (3)
50 – 60 (45)
Sand casting
T6
160 – 220 (140)
220 – 280 (180)
2 – 8 (2)
70 – 90 (65)
Gravity die casting
F
70 – 100 (70)
160 – 210 (160)
6 – 14 (5)
50 – 65 (50)
Gravity die casting
T6
160 – 220 (150)
250 – 300 (220)
5 – 15 (5)
75 – 90 (75)
Peraluman®-50 [ AlMg5 ]
Areas of use
Architecture, fittings, builder's hardware, lighting, domestic appliances, air conditioning, art casting, foodstuffs industry, optics/furniture, shipbuilding, chemical industry.

Distinguishing characteristics
Excellent chemical resistance, particularly to salt water. Perfectly suited to decorative anodic oxidation, outstanding sheen after mechanical polishing. Very good elongation and impact toughness values. Suitable for challenging casting technique.

Alloy denomination
Chemical denomination: AlMg5 | Numerical denomination: 51 300


Mechanical properties
Casting
method
Treatment
state
Yield tensile strength
Rp0,2 [N/mm2]
Ultimate tensile strength
Rm [N/mm2]
Elongation
A [%]
Brinell hardness
HBW
Sand casting
F
100 – 120 (90)
190 – 250 (170)
10 – 15 (8)
55 – 70 (50)
Gravity die casting
F
100 – 140 (100)
200 – 260 (180)
10 – 25 (8)
60 – 75 (55)
Peraluman®-56 [ AlMg5Si ]
Areas of use
Architecture, fittings, lighting, domestic appliances, air conditioning, art casting, foodstuffs industry, mechanical engineering, optics/furniture, shipbuilding, chemical industry.

Distinguishing characteristics
Heat-treatable alloy with average mechanical properties and high elongation. Outstanding corrosion resistance, very good sheen after mechanical polishing. Excellent machinability. Suitable for challenging casting technique.

Alloy denomination
Chemical denomination: AlMg5Si | Numerical denomination: 51 400


Mechanical properties
Casting
method
Treatment
state
Yield tensile strength
Rp0,2 [N/mm2]
Ultimate tensile strength
Rm [N/mm2]
Elongation
A [%]
Brinell hardness
HBW
Sand casting
F
110 – 130 (100)
160 – 200 (140)
3 – 4 (2)
60 – 80 (55)
Sand casting
T6
110 – 160 (110)
180 – 220 (160)
3 – 4 (2)
70 – 80 (65)
Gravity die casting
F
110 – 150 (100)
180 – 240 (150)
3 – 5 (3)
65 – 85 (60)
Gravity die casting
T6
110 – 160 (110)
210 – 260 (200)
3 – 18 (5)
75 – 85 (70)