Aluman® – resistant even at very high temperatures
The alloy with the highest melting point of all aluminium alloys. Its good thermal conductivity makes the alloy perfectly suited to the manufacture of cast parts such as heat exchangers. Aluman parts display a high solidification temperature which means that they remain solid when surrounding aluminium alloys are liquid. A workpiece cast from Aluman can therefore be brazed with another free-flowing alloy.

Its counterpart in nature is fresh water icebergs which float in the salt water of polar seas as they don't share the same melting point.
Aluman®-16 [ AlMn1,6 ]
Areas of use
Cars, air conditioning, automotive engineering, mechanical engineering.

Distinguishing characteristics
High pressure die casting alloy which can be hard soldered with limited castability in gravity die casting.

Alloy denomination
Chemical denomination: AlMn1.6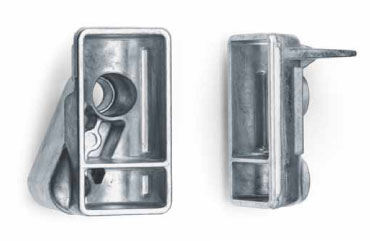 Mechanical properties
Casting
method
Treatment
state
Yield tensile strength
Rp0,2 [N/mm2]
Ultimate tensile strength
Rm [N/mm2]
Elongation
A [%]
Brinell hardness
HBW
Sand casting
F
80 – 100
130 – 160
4 – 8
40 – 50
High press. die casting
F
90 – 120
160 – 180
8 – 15
40 – 60
Mechanical properties
Casting
method
Treatment
state
Yield tensile strength
Rp0,2 [N/mm2]
Ultimate tensile strength
Rm [N/mm2]
Elongation
A [%]
Brinell hardness
HBW
High press. die casting
F
20 – 40
80 – 120
10 – 25
15 – 25